Drain cleaner for 2" to 4" lines - Spin Drive manual
Product Code:
please contact us for pricing
---
---
The Spin-Drive is a lightweight easy-to-operate manual drain cleaner for 2" through 4" drain lines. A comfortable metal handle on the crank turns the cage smoothly on self-aligning oilite bearings mounted on the front and rear of frame. A convenient carrying handle is mounted on the cage for easier portability. Equipped with Flexicore wire rope center cables, assuring you long life, as well as the strength and flexibility to do a good cleaning job.
FEATURES
Cage holds up to 75 ft. of 1/2″ cable.

Turns easily on self-aligning oilite bearings.

Large crank handle on back.
Convenient carrying handle mounted on drum.

Made in U.S.A.
OPTIONS
Snake-Oil Classic™  A great way to extend the life of drain cleaning tools & equipment
Snake-Oil Classic™ preserves and protects sewer cables against rust and corrosion. It's better than common lubricants because its special rust inhibitor cuts through moisture and replaces it with a rust-resistant coating. You'll significantly extend the life of your cables and sewer machine, including the drum, bearings and power cable feed rollers. Snake Oil Classic also includes a deodorizer to give equipment a fresh, clean smell. Available in quarts or gallons.
Snake-Oil Classic™ SDS – Material Safety Data Sheet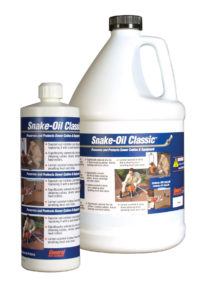 Quick-Fix™
General Pipe Cleaners' Quick-Fix™ let's you quickly repair broken drain snakes in the field. The unique Quick-Fix let's you continue working and finish the job without having to go back to your shop to repair or replace a broken cable. The Quick-Fix is available in 1/2", 9/16", 5/8", and 3/4" sizes with female or male connectors.
The specially designed spring with a pre-welded female connecter is easy to attach in the field. Prepare your broken snake by cutting off the damaged or kinked end of the cable with bolt cutters or a hack saw. Then simply thread the Quick-Fix over the broken snake. No welder is required! All you need are vice-grips or a pair of pliers. Once it's on, the Quick-Fix holds on so tightly that it simply cannot be removed, even if you wanted to.
ClogChopper®
Rip through tough stoppages with the unique ClogChopper® multi-function cutting tools. Six self-sharpening blades dig into encrusted debris and root masses, easily grinding up stoppages, scale, and crystallized urine, without risking pipe damage.
The spherical design maneuvers around tight bends and traps, thoroughly and safely cleaning metal, plastic, and clay pipes. As it spins it also self-sharpens as it scrapes along the pipe walls. It's excellent for clearing stacks, downspouts, mains, as well as for drain lining jobs.
SPIN-DRIVE UNITS – COMPLETE AND READY TO OPERATE
Weight: 15.0 lb
---
Related Products