Drain cleaner Auto-Feed for 2" to 4" lines Metro
Product Code:
The variable speed power cable feed makes The Metro easier for your customers to use. The automatic feed drives cable into the line at up to 20 feet per minute. Put the feed in reverse and it retracts the cable easily too.
The Power cable feed and guide tube combination allows the cable to feed smoothly into the line while keeping your customer's hands clean and away from the spinning cable.
The Metro's heavy-duty reinforced frame takes rough handling in the field. The big 10" heavy-duty wheels and a truck loading wheel make it easier to transport the machine to and from the job. A cutter holder on the frame keeps all the cutters within easy reach. And the fold-down handle makes the machine more compact to take up less space in the truck.
With the EJCS cutter set & a capacity of 75 ft. of 9/16″ or 100 ft. of 1/2″ tough Flexicore® cable, the Metro clears 2" – 3", and most 4" lines.
FEATURES
Clears in 2" to 4" lines.
Variable speed Power Cable Feed drives and retracts cable at up to 16 ft. per minute.
Cage capacity of 75 ft. of 9/16″ or 100 ft of 1/2″ Flexicore® cable.
Open cage lets you see cable condition after each rental.
Heavy-duty reinforced frame and drum support shaft takes rough handling in the field.
Handle folds for space-saving convenience in the truck or in the garage.
Ten-inch wheels and a truck loading wheel make for one-person handling.
Passive brake system holds the machine in place on the job and in the truck.
Momentary contact reverse switch and pneumatic foot pedal..
1/3 hp capacitor motor has plenty of power.
Made in U.S.A.
Power Cable Feed
The Metro's power cable feed is real labor saver. It enables you to vary feeding speed in and out of the line and gives you better control when working tough stoppages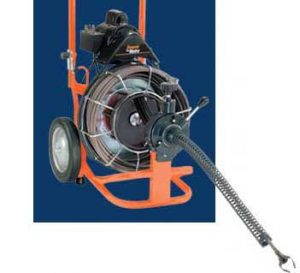 Folding Handle
The handle is tall enough to make it easy to move to the job, yet quickly folds to take less room in your truck.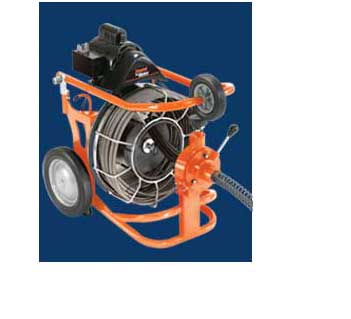 Easily Transportable
Ten-inch heavy-duty semi-pneumatic wheels roll easily over rough terrain to and from the job. Truck loading wheel in the handle makes it easy for one person to lift the machine onto a truck bed.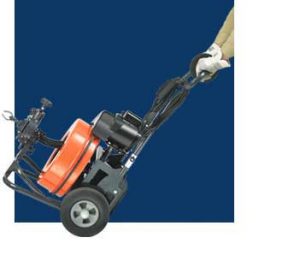 Reverse Switch
A momentary contact reverse switch protects the cable by preventing the operator from running the machine in reverse for more than a few seconds at a time.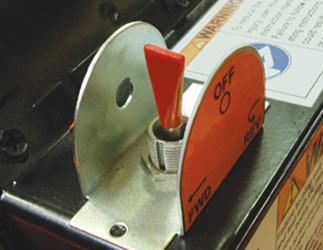 Safety Slip Clutch
Reduces chance of cable tangling or injury to the operator. Allows V-belt to slip through pulley until torque is reduced.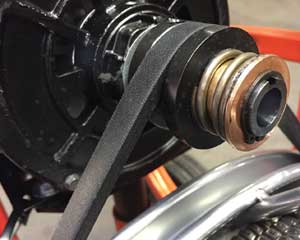 Flexicore® Cable
Heavy gauge wire is coiled around 49 strand wire rope and then heat treated. This cable has unequalled strength and the right amount of flexibility. It's so tough, it has a one year warranty against defect or breakage.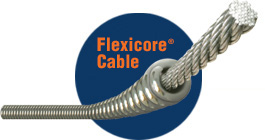 Flexicore® Patent Nos.
2,244,735 and 2,849,870
OPTIONS
Snake-Oil Classic™

A great way to extend the life of drain cleaning tools & equipment
Snake-Oil Classic™ preserves and protects sewer cables against rust and corrosion. It's better than common lubricants because its special rust inhibitor cuts through moisture and replaces it with a rust-resistant coating. You'll significantly extend the life of your cables and sewer machine, including the drum, bearings and power cable feed rollers. Snake Oil Classic also includes a deodorizer to give equipment a fresh, clean smell. Available in quarts or gallons.
Snake-Oil Classic™ SDS – Material Safety Data Sheet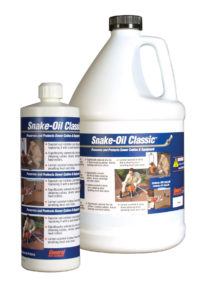 Quick-Fix™
General Pipe Cleaners' Quick-Fix™ let's you quickly repair broken drain snakes in the field. The unique Quick-Fix let's you continue working and finish the job without having to go back to your shop to repair or replace a broken cable. The Quick-Fix is available in 1/2", 9/16", 5/8", and 3/4" sizes with female or male connectors.
The specially designed spring with a pre-welded female connecter is easy to attach in the field. Prepare your broken snake by cutting off the damaged or kinked end of the cable with bolt cutters or a hack saw. Then simply thread the Quick-Fix over the broken snake. No welder is required! All you need are vice-grips or a pair of pliers. Once it's on, the Quick-Fix holds on so tightly that it simply cannot be removed, even if you wanted to.
ClogChopper®
Rip through tough stoppages with the unique ClogChopper® multi-function cutting tools. Six self-sharpening blades dig into encrusted debris and root masses, easily grinding up stoppages, scale, and crystallized urine, without risking pipe damage.
The spherical design maneuvers around tight bends and traps, thoroughly and safely cleaning metal, plastic, and clay pipes. As it spins it also self-sharpens as it scrapes along the pipe walls. It's excellent for clearing stacks, downspouts, mains, as well as for drain lining jobs.
AH
Arrow Head  Starting Drill (Gets water flowing)
1-1/2 UC
1-1/2" U-Cutter  For cutting and scraping
2UC
2" U Cutter  For cutting and scraping
RTR-1
Small Retrieving Tool  For removing loose objects and broken cables
THE METRO UNITS - COMPLETE AND READY TO OPERATE
CUTTER SET
REPLACEMENT CABLES
PARTS & ACCESSORIES
SPECIFICATIONS
Weight: 92 lbs. (42 kg) without cable
Dimensions: 27" deep x 18-1/2" wide x 46" high–26" (66cm) high with handle folded down (68cm x 47cm x 117cm).
Drum Capacity: 100 ft. x 9/16" (30m x 12.7mm)
Drum Removal: Remove two bolts and slide drum off shaft.
Motor: 1/3 hp with capacitor start, forward-off-reverse switch, 20 ft. power cord and ground fault circuit interrupter.
Foot Switch: Pneumatic, with no electrical contact between pedal and motor.
Power Cable Feed: Drives and retracts cable at variable speed without having to reverse motor rotation.
Wheels: 10" Heavy-duty semi-pneumatic with ball bearings
Wheel brake: Passive wheel brake system holds the machine in place on the job and in the truck.
Folding handle: Tall enough to make it easy to move to the job, yet quickly folds to take less room in vehicle.
Truck Loading Wheel: Enables one person to lift machine into truck bed.
Cutter Holder: Cutter Holder on the frame keeps all the cutters within easy reach.
Instructional Video included.
Weight: 146.0 lb
---
Related Products