Drain Cleaner for 1-1/4" to 3" lines - Drain Rooter
Product Code:
please contact us for pricing
---
---
The Drain-Rooter is a real labor-saver on long jobs or working in a cramped area where the weight of the machine could get burdensome.
This compact floor model drain cleaner has a unique variable speed foot pedal system that lets the operator vary the speed of the cage allowing both hands to be free to control the cable.
The cage holds up to 50 ft. of 5/16″ or 35 ft. of 3/8″ Flexicore cable. Units with 3/8″ cable include our five-piece HECS cutter set.
FEATURES
Jacobs chuck grips cable to prevent cable tangling.
Variable speed double insulated motor.
Pneumatic foot pedal controls motor speed.
Open cage lets you see cable condition after each rental.
Holds 50 ft. of 1/4″ or 5/16″, or 35 ft. of 3/8″cable.
Flexicore wire rope center cables have unequaled strength yet the right amount of flexibility.
HECS Cutter Set
Made in U.S.A.
OPTIONS
Snake-Oil Classic™

A great way to extend the life of drain cleaning tools & equipment
Snake-Oil Classic™ preserves and protects sewer cables against rust and corrosion. It's better than common lubricants because its special rust inhibitor cuts through moisture and replaces it with a rust-resistant coating. You'll significantly extend the life of your cables and sewer machine, including the drum, bearings and power cable feed rollers. Snake Oil Classic also includes a deodorizer to give equipment a fresh, clean smell. Available in quarts or gallons.
Snake-Oil Classic™ SDS – Material Safety Data Sheet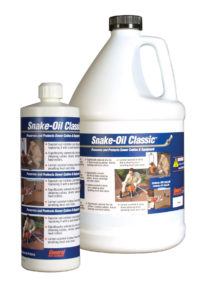 AH Arrow Head Starting Drill - Starting Drill (Gets water flowing)

BG Boring Gimlet - For removing loose objects

DHBG Down Head Boring Drill - For removing loose objects (Goes down waste, not up stack)

FAH Flexible Spring Arrow Head Cutter Starting Drill  - (For  sharp turns and small lines)

1-1/4 SCB 1-1/4" Side Cutter Blade (2-piece set) - For cutting and scraping
DRAIN-ROOTER UNITS FOR THE RENTAL INDUSTRY - COMPLETE AND READY TO OPERATE
CUTTER SET
SPECIFICATIONS
Weight: Weight: 16 lbs. (7 kg)
Dimensions: 18" deep x 12" wide x 12" high (45 cm x 30 cm x 30 cm)
Motor: All ball-bearing, double insulated, reversible motor with speed control; 0-500 RPM, 230 and 240 volts available.
Foot Pedal: Pneumatic foot pedal controls variable speed motor. Leaves operator's hands free to control cable.
Capacity: 50 ft. of 1/4″ or 5/16″ cable; 35 ft. of 3/8″ cable. All cables are left hand wound and reinforced with a wire rope center.
Chuck: Jacobs chuck.
Cutter Set: Arrow Head, Boring Gimlet, Down Head Boring Gimlet, 1-1/4″ Side Cutter Blade, Flexible Arrow Head
Instructional Video Included
Weight: 40.0 lb
---
Related Products