Quick fix connectors 1/2" to 3/4"
Product Code:
please contact us for pricing
---
---
General Pipe Cleaners' Quick-Fix™ lets you quickly repair broken drain snakes in the field. The unique Quick-Fix enables you to continue working and finish the job without having to go back to your shop to repair or replace a broken cable.
The specially designed spring with a pre-welded connector is easy to attach in the field. Prepare your broken snake by cutting off the damaged or kinked end of the cable with bolt cutters or a hack saw. Then simply thread the Quick-Fix over the broken snake. No welder is required! All you need are vice-grips or a pair of pliers. Once it's on, the Quick-Fix holds on so tightly that it simply cannot be removed, even if you wanted to.
Keep a Quick-Fix in your toolbox for emergencies and you'll never have don't time on the job because of a broken snake again.
See how easy it is to use Quick-Fix. They're available in 1/2", 9/16" 5/8" and 3/4" sizes with female or male connectors for General's Flexicore® left-wound cables.
FEATURES
Quickly repair broken drain cables in the field.
Specially designed spring with pre-welded connector.
Just thread Quick-Fix over broken snake. Not welder required.
Quick-Fix holds on so tightly it cannot be removed.
Available in 1/2", 9/16", 5/8", and 3/4″ sizes.
Made in USA.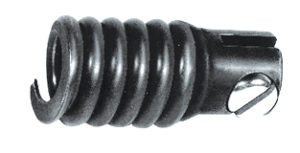 Weight: 0.0 lb
---
Related Products