Drain cleaner Auto-Feed for 3" to 10" lines Speedrooter 92
Product Code:
Speedrooter 92
 

Job Tested Tough
Contractors know that the Speedrooter 92 really can take a beating – from its frame braced at key stress points, to General's exclusive Flexicore® wire rope center cable that's so tough it carries a one year warranty.
The Speedrooter 92's field-tested design offers easy handling. One person can easily load it onto a truck, as the machine slides smoothly from the loading wheel to the handle to the stair climbers and finally to the wheels. The adjustable height handle can be reset to be three inches longer or more compact, depending on your preference.
FEATURES
Clears 3″ through 10″ drains up to 100 ft. down the line.
Drum holds 100 ft. of 3/4″ or 5/8″ Flexicore® cable.
Inner drum cage and Self-aligning Flexitube™ spring distributor tube reduces cable tangling.
Power Cable Feed drives and retrieves cable at up to 20 ft. per minute.
1/2 hp motor strong enough to drive cable 200 ft. down the line.
Features stair climbers, 10″ ball bearing tires, truck loading wheel and tool box.
Adjustable height handle can be 3″ taller or more compact.
Flexicore wire rope center cables have unequalled strength yet the right amount of flexibility.
Made in U.S.A.

Power Cable Feed
With the driving and pulling power for long, tough jobs, General's Power Cable Feed easily handles 3/4″, 5/8″, and 9/16″ cables. To adjust to different cable sizes, simply turn the knob on top of the feed.
Guide Tube
Greatly increases the efficiency of power cable feed by reducing cable whipping and drag. Keeps your hands off of the spinning cable. Tube is 30" long. Five foot extensions are made of rigid conduit with a flexible spring end.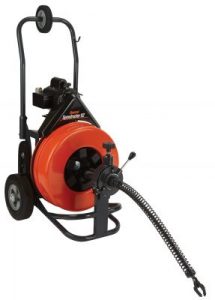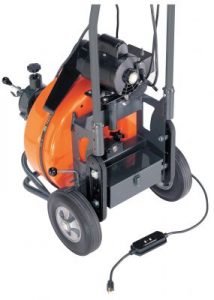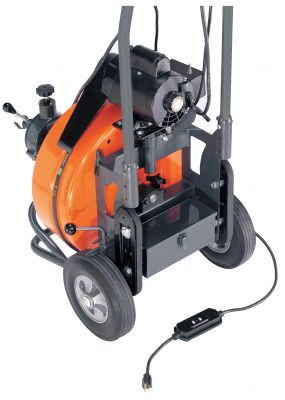 Portability, Convenience, and Safety

Equipped with 10″ heavy-duty wheels, stair climbers, tool box and ground fault circuit interrupter.
Truck Loading
One person easily loads the Speedrooter 92 onto a truck. The swept-back handle and loading wheel give you the needed leverage.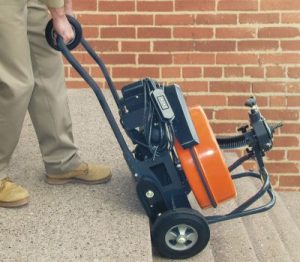 V-belt Stair Climbers
V-belt stair climbers like the ones used to move heavy furniture and appliances let you take the Speedrooter 92 up a flight of stairs yourself.
Flexicore®Patent Nos.
2,244,735 and 2,849,870
OPTIONS
Snake-Oil Classic™

A great way to extend the life of drain cleaning tools & equipment
Snake-Oil Classic™ preserves and protects sewer cables against rust and corrosion. It's better than common lubricants because its special rust inhibitor cuts through moisture and replaces it with a rust-resistant coating. You'll significantly extend the life of your cables and sewer machine, including the drum, bearings and power cable feed rollers. Snake Oil Classic also includes a deodorizer to give equipment a fresh, clean smell. Available in quarts or gallons.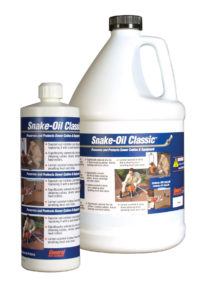 Quick-Fix™
General Pipe Cleaners' Quick-Fix™ let's you quickly repair broken drain snakes in the field. The unique Quick-Fix let's you continue working and finish the job without having to go back to your shop to repair or replace a broken cable. The Quick-Fix is available in 1/2", 9/16", 5/8", and 3/4" sizes with female or male connectors.
The specially designed spring with a pre-welded female connecter is easy to attach in the field. Prepare your broken snake by cutting off the damaged or kinked end of the cable with bolt cutters or a hack saw. Then simply thread the Quick-Fix over the broken snake. No welder is required! All you need are vice-grips or a pair of pliers. Once it's on, the Quick-Fix holds on so tightly that it simply cannot be removed, even if you wanted to.
ClogChopper®
Rip through tough stoppages with the unique ClogChopper® multi-function cutting tools. Six self-sharpening blades dig into encrusted debris and root masses, easily grinding up stoppages, scale, and crystallized urine, without risking pipe damage.
The spherical design maneuvers around tight bends and traps, thoroughly and safely cleaning metal, plastic, and clay pipes. As it spins it also self-sharpens as it scrapes along the pipe walls. It's excellent for clearing stacks, downspouts, mains, as well as for drain lining jobs.
CUTTER SET (CATALOG #SRCS)

SHD Spear Head Starting Drill
Starting Drill (gets water flowing)

3SCB/4SCB   3" & 4" Side Cutter Blades

2UC   2" U-Cutter

3HDB   3" Heavy Duty Saw Blade
For roots and other stoppages

4RSB   4" Rotary Saw Blades
For roots and other stoppages

RTR-2   Large Retrieving Tool
For removing loose objects and broken cables

LE-3   26" Flexible Leader
Helps cable get around tight bends and traps
SPEEDROOTER 92 UNITS - COMPLETE AND READY TO OPERATE
CUTTER SET
REPLACEMENT CABLES
PARTS & ACCESSORIES
SPECIFICATIONS
Weight: 115 lbs. (52 kg) without cable
Dimensions: 26" deep, 22" wide, 41" high (66 cm x 56 cm 104 cm)
Drums: Large drum holds 100 ft x 3/4" or 5/8" cable (30 m x 19 mm or 17 mm).
Drum Removal: Loosen two knobs, remove ringbolt, and lift off.
Motor: 1/2 hp with capacitor, forward-off-reverse switch, 20 ft. power cord and ground fault circuit interrupter. (3/4 hp optional)
Foot Switch: Pneumatic, with no electrical contact between pedal and motor.
Power Cable Feed: Drives and retracts at variable speed of up to 20 ft. per minute.
Wheels: 10" semi-pneumatic heavy duty with ball bearings.
Stair Climbers: Heavy-duty V-belts running on nylon rollers.
Wheel Brake: Keeps machine in place on the job or in the truck.
Truck Loading Wheel: Enables one person to lift machine onto bed of truck.
Tool Box: Attached to rear of machine. Holds all cutters except Flexible leader.
Leather Gloves: With double-reinforced palm for hand protection when guiding cable.
Cables: Left wound Flexicore® wire rope center 3/4" diameter for 4" to 10" lines and 3" lines without sharp bends; 5/8" diameter for 3" to 6" lines; 9/16" diameter for 2" to 3" lines.
Cutters:
Cutter Set for 5/8" and 3/4" cables
3SCB, 4SCB 3" and 4" Side Cutters
3HDB 3" Heavy Duty Saw Blade
SHD Spear Head
2UC 2" U-Cutter
4RSB 4" Rotary Saw Blade
RTR-2 Large Retrieving Tool
LE-3 Flexible Leader, 26" long
Weight: 130.0 lb
---
Related Products